Three months after Christina's sentencing, David's trial started. The forensic pathologist who performed the autopsy was questioned intensively on the injuries of Amber's pancreas. He described them as 'a couple of very, very small injuries to the pancreas', which 'probably would have healed themselves without medical intervention.' 'Serious disfigurement', which had just got Christina twenty years on top of her life sentence, is defined in law as something that causes lasting damage. But the pathologist stated: 'I wouldn't use that terminology.'
He also stated that the main cause of death was 'the blunt force trauma she received on her head.' The question of when these wounds had been caused was therefore of critical importance. On the witness stand, the pathologist was asked whether these injuries could have been caused earlier on the fatal day, before Christina left the trailer. His answer was that although this was theoretically possible, 'It doesn't fit the time frame very well.'
David testified that after Christina's departure, Amber had eaten and played for a few hours before he put her to bed around 3:30 or 4 pm. The pathologist was asked: 'Would you expect a child who has sustained these type of injuries to have been playing let's say two hours beforehand?' The pathologist answered: 'It's hard to conceive that there would be any significant period of time following such an injury that the child seems perfectly fine and then later the symptoms kick in.'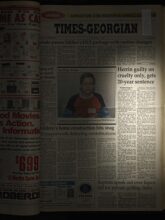 After three hours of deliberation, the jury returned with its verdict. David was acquitted of all charges except that of cruelty to children for failing to seek medical assistance. For that, the judge sentenced him to a term of twenty years imprisonment. This charge – that he had withheld medical assistance from Amber – was little different from what in Christina's case had led to her conviction for murder and receiving a life sentence.
In 2018 and 2019, I took the testimonies to Dutch medical specialists such as neurosurgeon Guus Beute and forensic pathologist Frank van de Goot, and the latter's Belgian colleague Werner Jacobs. All three of them confirm, more strongly even, what Dr. Dunton said at David's trial and are of the opinion that she could not have lived long after sustaining the fatal damage to her head. Van de Goot speaks of a fatal explosion of violence shortly before Amber's death, and Jacobs says that the clinical symptoms of the head injury are serious, i.e. deadly, and that they would follow 'the trauma almost immediately, within minutes to at most a few hours'. So given David's own testimony that Amber had been eating and playing as if nothing had happened for several hours after Christina's departure, the fatal incident must have taken place during Christina's absence.
Click here for the first three episodes of this blog series.
Artist-photographer Jan Banning has had more than 80 solo exhibitions in more than twenty countries, on four continents. His work is included in many public and corporate collections including those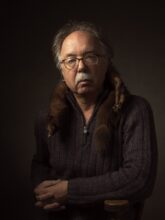 of the Museum of Fine Arts in Houston, the High Museum of Art in Atlanta, the Museum of Photographic Arts in San Diego, the Forward Thinking Museum in New York City, and the Rijksmuseum in Amsterdam. His photographs have been published in dozens of newspapers and magazines worldwide, including The New Yorker, Time and Newsweek. His book 'The Verdict' is available in both Dutch and English. Click here for more information about the upcoming exhibtion in Rotterdam. There is also a podcast, called 'Jan & Christina'.