Amber's death was big news in Carroll County. It continued to be the subject of animated discussion among the readers of the local Times Georgian for many weeks. Readers – especially female readers – spoke of the unjustifiable death of Amber Boyer (sic) who was allegedly beaten 'beyond recognition' by her mother and her mother's boyfriend. On April 21, a Times Georgian editorial stated that 'her beatings are believed to have been frequent'.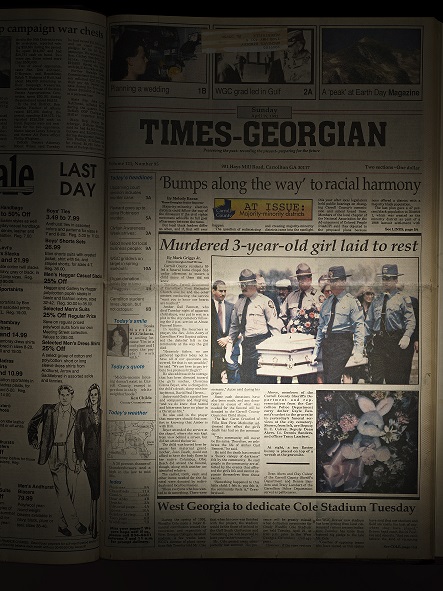 The police now set out to prove that Christina had been a regular child abuser. They collected fourty-three testimonies from Ohio and Georgia that cast a dark shadow over Christina's reputation as a mother. Years later, in 2019, three students from Professor Marc Howard's 'Making an Exoneree' class at Georgetown University uncovered that all accusations from Ohio were unsubstantiated. And there were no known complaints to Children's Services in Georgia about Christina's behavior. But at the time, Christina was perceived as a monstrous and abusive mother.
The US is the only country in the world – in almost all of its states, including Georgia – to have elected rather than appointed public prosecutors (district attorneys). And the same applies to s heriffs. In most US states, judges are also (at least partly) elected. In Georgia, this applies to pretty much all judges. In practice, this makes all of these elected officials very susceptible to populism, and the prevailing attitudes of the past decades dictate that they have to be 'tough on crime'. The year Amber died, 1992, was an election year. During his election campaign, the D.A. stated that he would demand the death penalty against both suspects.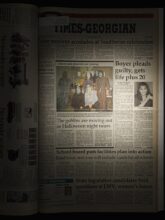 Six months after her arrest, Christina was finally allocated a pro bono lawyer: Jimmy Berry. He had already eighty-eight other cases and was not keen on taking on Christina's, but the judge refused to let him off the hook. After two and a half years in pre-trial detention, during which time Christina hardly ever heard from him, he suddenly presented her with a very unusual version of a plea bargain: an Alford plea. This allows the suspect to maintain her innocence provided she accepts a sentence. If Christina agreed to life plus twenty years, the death penalty would go off the table. If not, the lawyer threatened to withdraw.
Tried by media, with no confidence in her defense attorney, and also under wrongly administered medication and under the false impression that she'd be paroled after a few years, Christina accepted the plea deal. Two and a half years after Amber's death, Christina was sentenced to life in prison for murder by failing to seek proper medical attention for Amber. On top of that, she was given twenty years for causing 'bodily harm to Amber Bennett by seriously disfiguring a member of her body, her pancreas'.
Click here for the first two parts of this blog series.
Artist-photographer Jan Banning has had more than 80 solo exhibitions in more than twenty countries, on four continents. His work is included in many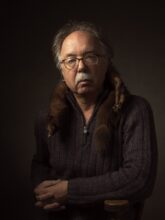 public and corporate collections including those of the Museum of Fine Arts in Houston, the High Museum of Art in Atlanta, the Museum of Photographic Arts in San Diego, the Forward Thinking Museum in New York City, and the Rijksmuseum in Amsterdam. His photographs have been published in dozens of newspapers and magazines worldwide, including The New Yorker, Time and Newsweek. His book 'The Verdict' is available in both Dutch and English. Click here for more information about the upcoming exhibtion in Rotterdam. There is also a podcast, called 'Jan & Christina'.