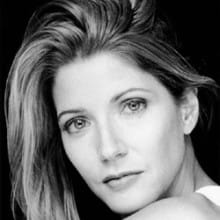 The John Adams Institute, in cooperation with Publishing House Vassallucci, invited Candace Bushnell for a unique performance in the music temple Paradiso. The author introduced her recently published – first – novel Trading Up. Heleen van Royen interviewed Miss Bushnell; the public was invited to ask questions. After the booksigning, Candace Bushnell joined the crowd for an afterparty.
Candace Bushnell, author of Sex and the City, presented Trading Up, a sharply observant, keenly funny comedy of manners. It narrates the escapades of lingerie model Janey Wilcox in her ambitious climb to success in New York City's glamour world. It brings her to Hollywood, where, as she says at the book's end: 'everything told her that she'd finally found her place'.
Bushnell draws us into the superficial world of $ 100,000 cars, hunky polo players, media moguls and relationships whose hidden agendas are detectable only by the socially astute.
Candace Bushnell's previous books – Sex and the City and 4 Blondes, in which the career of Janey Wilcox began – have sold more than a million copies. Sex and the City was adapted into a hugely successful TV show. Bushnell has been a columnist for The New York Observer and a contributing editor for Vogue.
Heleen van Royen worked as an editor for the Haarlems Dagblad, as a reporter for Radio Noord Holland and wrote for magazines as Cosmo and Marie-Claire, currently writes a weekly column for Het Parool and Planet Internet. Her debut novel De Gelukkige Huisvrouw appeared in 2000, is translated into 7 languages (Happy Housewife, published by Abacus) there is a play based on the book and now Paula van Oest will make a movie out of it. This year Godin van de jacht was published by Vassallucci, and caused quite a stir.
_________________________________________________________
Official trailer for the movie Sex and the City, based on Candace Bushnell's first book:
Links: