Mar 17, 2006 - Odeon, Singel 460, Amsterdam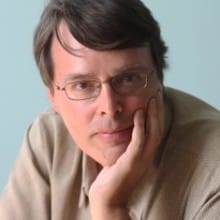 The John Adams Institute proudly presented an evening with award-winning American journalist and author Charles C. Mann. Mann has been called both 'revisionist' and 'revolutionary'. His work – 1491: New Revelations of the Americas Before Columbus (Nieuw Amsterdam publishers: 1491; De ontdekking van precolumbiaans Amerika) – traces the early history of the continent and dispels long-held beliefs about native American civilizations. Based on new compilations of evidence, he paints a vivid portrait of sophisticated, thriving societies. Mann argues convincingly that the Inca fell to infection, not firepower, and that the untouched landscape of the Amazon rainforest is actually the product of long human intervention. A correspondent for The Atlantic Monthly, Science, and Wired, Mann has covered the intersection of science, technology, and commerce for newspapers and magazines in France, Germany, Italy and Japan. A three-time National Magazine Award finalist, he has received writing prizes from the American Bar Association and the American Institute of Physics. He has also written for the television series Law and Order.
The evening was moderated by Dr. Raymond Buve, emeritus professor of Latin American history, Department of languages and Cultures of Latin American of Leiden University.
_________________________________________________________
Links:
Moderator: Dr. Raymond Buve

In collaboration with: Nieuw Amsterdam Publishers, AEGON, Ministerie van OC&W, American Embassy The Hague, Van den Berch van Heemstede Fonds