Oct 30, 2012 - Thomaskerk, Prinses Irenestraat 36, Amsterdam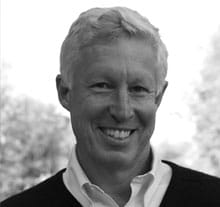 In a rapidly changing world, companies believe they have to constantly reinvent themselves to stay profitable. But authors Zook and James Allen argue pretty much the opposite. The companies that succeed – from Nike to Apple to Ikea – stick to their formula. They create a "repeatable" business model, and continually adapt it to changing circumstances.
Related to repeatability, Zook and Allen say, is simplicity. "Strangulation by complexity" is killing companies large and small. In clear prose worthy of a Malcolm Gladwell, the authors – partners at Bain & Company who undertook a study of 200 companies – show how to succeed in business in the 21st century.
Moderator: Harry Starren

In collaboration with: Bain & Company, Holland-America Friendship Foundation, US Embassy The Hague, AEGON. Special thanks to Zingeving Zuidas