Aug 20, 2016 - Stadsschouwburg, Leidseplein 26, Amsterdam
We were honored to have one of the most influential composers of the 20th century on the John Adams program. Philip Glass is the first composer to win a wide, multi-generational audience not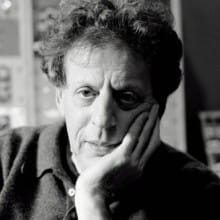 only in the opera house and the concert hall, but also in the dance world, in film and in popular music – simultaneously.
He is known as an "American minimalist", writing pulsating rhythms and repetitive, slowly changing harmonies with long, overarching tunes. Mr. Glass took the John Adams stage to talk about his memoir Words Without Music, a fascinating chronicle of a life spent pursuing the absolute freedom of musical expression.

Glass was joined by harpist Lavinia Meijer and pianist Feico Deutekom.
Moderator: Melchior Huurdeman

In collaboration with: Mojo Concerts, Hollands Diep publishers