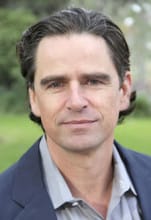 The John Adams Institute and the Society for Eighteenth-Century Studies have joined forces to organize the annual Burgerhart lecture, in which an eminent scholar reflects on the Enlightenment.
Darrin McMahon was awarded Best Book of the Year awards by the New York Times, the Washington Post and the online magazine Slate for his previous book Happiness: A History.
In his new book Divine Fury: A History of Genius, he traces how the concept of genius has transformed over time, leading to a 'religion of genius' that led to the excesses of the Nazis followed by the redemption of genius by Einstein, the last of the titans. Ranging from antiquity to modern times, from poets to the whiz kids of Silicon Valley, McMahon questions what genius has meant to us, and what it still might mean today. According to Harvard psychology professor Daniel Gilbert, "McMahon has become one of the world's greatest historians of ideas".
The Burgerhart lecture is named after the main character in the classic Dutch novel from 1782, Historie van mejuffrouw Sara Burgerhart by Betje Wolff and Aagje Deken. Sara aspires to be a model citizen.