Mar 14, 1993 - De Kleine Komedie, Amsterdam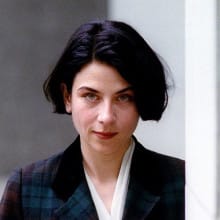 On March 14th, 1993, American author Donna Tartt visited the John Adams Institute to speak about her bestselling novel The Secret History, which has been translated into 24 languages. The Secret History takes places at a fictional college where a close-knit group of six students embark upon a secretive plan to stage a bacchanal, a plan that ultimately leads to a death. The event was moderated by journalist and literary critic Pieter Steinz.
Since The Secret History, Tartt has written The Little Friend and The Goldfinch, the latter of which became a bestseller and Book of the Year by numerous publications including New York Times Book Review, the Economist and NPR. The Goldfinch also won the Pulitzer Prize.
Moderator: Pieter Steinz
_________________________________________________________
Moderator: Pieter Steinz

In collaboration with: Uitgeverij Anthos, Ministerie van Buitenlandse Zaken Den Haag, Anjerfonds Amsterdam, United States Information Service the Hague