25 August 2005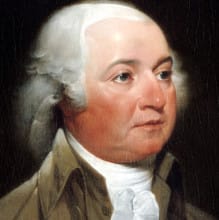 Mini Exhibition 4 Juli -25 August 2005
The American Diplomat John Adams in Amsterdam,1780-1782
The Amsterdams Historisch Museum and the John Adams Institute proudly presented the first-ever exhibition commemorating the life of U.S. President John Adams in Holland.
The exhibition gave an impression of the political situation in the Netherlands at the end of the 18th century, and featured original passages written by Adams during his time in Holland. Adams added his own deeply personal impressions and observations of the Dutch people with whom he had contact.
Before being elected the second President of the United States, Adams resided in the Netherlands from 1780-1782 as an envoy and advocate for the American colonies, which were then waging a brutal war for independence against the British. Living in the heart of the city, at Keizersgracht 529, he actively sought contact with the social-economic elite, befriending bankers, politicians, and other influential persons who could help contribute to support the fledgling republic. The long history of friendship between America and the Netherlands was cemented by Adams and the Netherlands became the second country in the world, after France, to recognize America's independence.