May 06, 2006 - Fonds 1818 Foyer - Dr. Anton Philipszaal/Lucent Danstheater, Spuiplein 150, Den Haag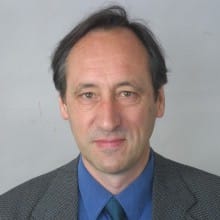 Marc Chavannes, former Washington correspondent and journalism professor, joined the John Adams Institute to discuss his new book On the Axis of Good and Evil (Op de As van Goed en Kwaad – Amerika achter de schermen). Chavannes spent five years at the Washington desk reporting for NRC Handelsblad. In his book, he goes behind the headlines to reveal the real United States, in all its many facets.  In The Hague, Chavannes, currently political columnist for NRC Handelsblad, was joined by a panel of experts to discuss the state of America today. The panelists were Bloomberg News senior editor Anne Swardson, Vrije Universiteit history professor James Kennedy, and Fordham University professor Thomas S. DeLuca. Professor DeLuca currently holds the Thomas Jefferson Distinguished Fulbright Chair in American Studies in the Netherlands.
The discussion was moderated by NRC Handelsblad journalist Tracy Metz.
_________________________________________________________
Links:
Moderator: Tracy Metz

In collaboration with: NRC Handelsblad, Prometheus Publishers, AEGON, Ministerie van OC&W, American Embassy The Hague, Van den Berch Heemstede Fonds, The City of the Hague, Boekhandel Paagman, West-Holland Foreign Investment Agency