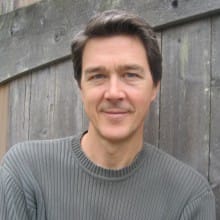 The John Adams Institute, in co-operation with Cossee Publishing House and the University of Amsterdam presented an evening with Mark Hertsgaard. Hertsgaard talked about his book, The Eagle's Shadow: Why America Fascinates and Infuriates the World. Professor Maarten Brands participated in a discussion with Mark Hertsgaard, giving his views on America and America's relationship with Europe. Machiel Keestra introduced the speakers and moderated the debate and discussion.
As a superpower, the United States has rarely had to consider the opinions of outsiders. The events of September 11, 2001 were a chilling reminder that these opinions do count. In his book The Eagle's Shadow, Mark Hertsgaard explores how America is perceived by the rest of the World, providing a complex register of impressions and paradoxes. Hertsgaard also investigates the impact of the relentless export of 'Americanism' throughout the world and how this has positively and negatively affected the outsider's perceptions of the United States.
Mark Hertsgaard is a journalist who has contributed to numerous newspapers and magazines including The New Yorker, The New York Times, The Washington Post, Die Zeit and De Groene Amsterdammer. He has previously published three books, On Bended Knee: the Press and the Reagan Presidency (1988), A Day in the Life (1996) on the music and artistry of the Beatles, and Earth Odyssey (1999) on the environmental future. He lives in San Francisco.
Maarten Brands is an historian and a professor at the University of Amsterdam. He has been a Director of the Duitsland Institute since its establishment in 1996. He also resided as a Fellow of the New York Public Library's Center for Scholars and Writers, researching a collection of essays on continuity in periods of rapid change. Machiel Keestra is philologist and works for Studium Generale at the Universiteit van Amsterdam and Crea.
_________________________________________________________