1989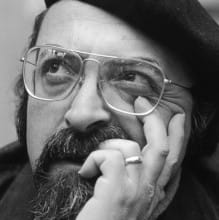 The noted American author Chaim Potok spoke on the subject of 'Literature and Religious Authority: the Writer Against the World'.  Following the lecture, a discussion with Dr. Marius Buning, a member of the Faculty of Literature at the Vrije Universiteit in Amsterdam, took place.
Chaim Potok was also a philosopher, painter and rabbi without congregation. He was born in Brooklyn, New York in 1929 and grew up in a Jewish immigrant family. Since his first book The Chosen (1976), Potok wrote several novels in which he dealt with various aspects of life in New York City: The Promise, My Name is Asher Lev, Davita's Harp, In the Beginning, and The Book of Lights. 
His latest work – Wanderings: History of the Jews – appeared in Dutch translation this November 1989. In it, Chaim Potok related 400 years of Jewish History.
The central theme of all Potok's writings is the dialogue between a sectarian Judaism that isolates itself in faith, superstition and mysticism and a Jewish culture that is open to secular influence. His main concern therefore, the conflict between the traditional and the new value systems of our contemporary world, is a universal theme, relevant to everyone.
Chaim Potok also visited the John Adams Institute in 1996.
Chaim Potok died at his home in 2002, at the age of 73. Read his obituary from The Guardian here. 
_________________________________________________________