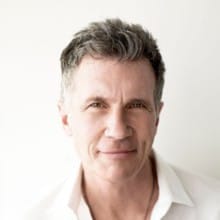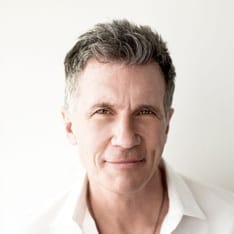 On May 8th, 1992, the John Adams Institute hosted author Michael Cunningham.
Michael Cunningham is the author of the novels A Home at the End of the World, Flesh and Blood, The Hours (winner of the Pen/Faulkner Award & Pulitzer Prize), Specimen Days, and By Nightfall, as well as the non-fiction book, Land's End: A Walk in Provincetown. His new novel, The Snow Queen, was published in May of 2014. He lives in New York and teaches at Yale University.
In a letter to the John Adams Institute Michael Cunningham writes: "…when I appear there I want to read from my own and other artist's work and I'll talk about writing in the middle of the AIDS crisis. It's a subject that's profoundly important to me, one I think about all the time. I want to discuss some of my own fundamental questions with members of the audience. How do writers incorporate a disaster of this magnitude into something as fragile – so personal – as a story or a novel? What are our moral and political obligations? Does it render fiction writing ludicrously small? Or does it give it its purpose? … Obviously this talk of mine won't provide anyone – least of all myself – with any significant answers. I just want to raise questions that go, I think, to the heart of the impulse to create."
The evening was moderated by writer and journalist Bas Heijne, and included Q&A with the audience.
Michael Cunningham has visited the John Adams Institute four times, in 1992, 2005, 2010, and 2014.
_________________________________________________________
Links: